Customer Testimonials
I love this shed so much more because it was my two hands that made it happen! Happy building!! I hope you enjoy yours for years to come.
I documented my she shed assembly with photos and descriptions, you can read the whole story here.
 Stacey W., Oakton, VA
---
I use the shed for my gardening and potting up plants. We chose this shed because of its cost and size. Three of us took three weekends to build, so more than 8 hours. My husband made a time-lapse video. I hope you like my husband's sense of humor. I love my shed.
 Wendy M., North Bend, WA
---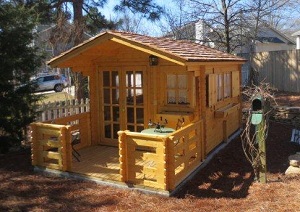 Thanks again for all your assistance. We really love how the house turned out and had a lot of fun with the entire project. It was not hard to put it together and you didn't have to be an engineer to do it. The instructions are good, illustrations clear and all the pieces and parts arrived safely. Like you said, when it was delivered it took about 30-45 minutes for my son and I to unload it by hand into the garage (which wasn't a big deal). The next day I went through piece by piece, identifying and consolidating all the parts. This was a major aid in assisting us as we read and worked through the construction steps. We took out to the site, only the pieces we needed each day. The extra boards supplied came in handy, as we did have to swap out 2 that we just couldn't get to fit right.
 Ron and Bev, Columbia, SC
---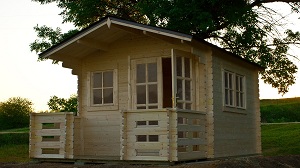 I love this shed, it looks fantastic. I'm glad that you have assembled. I'm using it as my little cabin next to the lake. A lot of people coming and first they are asking what's it? Then they are telling how nice it looks and asking again how I'm always getting this stuff.
Erin, Goose lake, IA
---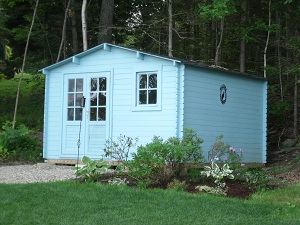 First, let me say how impressed I am with our 12' x 12' shed. I purchased this from you in August of 2011 hold all of my family's equipment and belongings at our summer home in Boothbay ME. It was very easy to build, the only tool I needed was a rubber mallet until I finished the roof. The shed sat from Dec of 2011 when I closed the summer home for the season, until June of 2012 and protected my belongings better than I could have dreamed of. The shed is completely water tight, as well as critter tight which is so important as well. This Spring I had the lawn replaced with sod and later in the summer hosted a lawn party, the shed was one of the topics of conversation all night. My neighbors and friends in Maine love the shed, and of course I gave all of them your contact information. I am so happy that I purchased this shed from you, I look forward to many, many years of use from it.
Chris, Boothba,y ME
---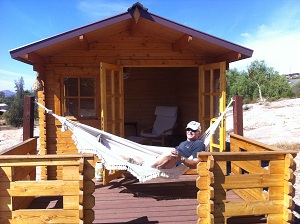 We are very satisfied with your product and we will buy another shed soon. Very enjoyable just sit and relax and watch the birds and the flowers grow.
 Siegfrid, Ramona, CA
---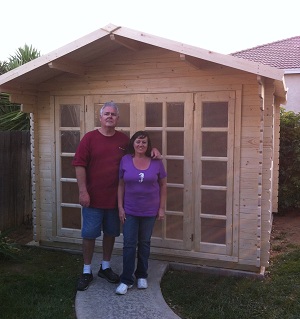 Let me say we could not be happier with our solid build shed. We had neighbors from all over coming to look at it as I put it up and finished it. Your help in shipping the product and the instructions online were greatly appreciated.
 Susan, Los Angeles, CA
---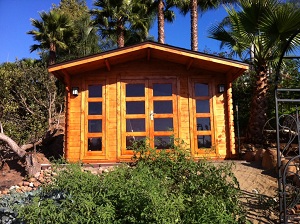 I knew I needed a storage shed for tools and lawn and garden equipment, but I felt the barn type structures detracted from our backyard landscape design. As soon as I saw the Bristol model wooden shed, I knew I had the solution to having enough storage space and a very pleasant and functional design. Everyone who sees it is impressed and comments on its unique design. I couldn't be happier my choice and also the shed's high quality construction.
Brian, Sonoma, CA
---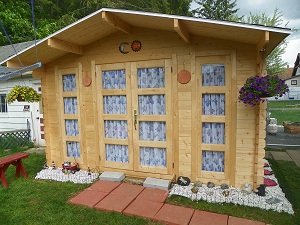 We use this new Bristol Garden shed as a get away to relax with our Nordic spa. We like it a lot.
 Robert, Elmira, NY
---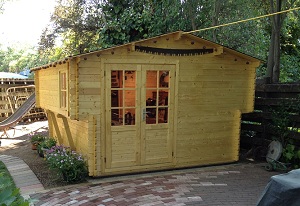 We absolutely love our shed, which we call my wood shop. Here are a few outside views and some detail shots. They all show the modifications I did: moving the window to a side wall, pulling the lower half of the side walls in to 10 feet across (to meet the city requirements of a max 10x12 ft footprint without a permit!) and adding a sliding cabinet that would not fit inside with the 10 x 12 requirement. With regard to the side walls being pulled in, only the wall with the new window placement needed support from below because the lengthwise integrity is compromised by the window. Notice the triangular supports, the finishing touch of small pieces added to the exterior corners to make both the 10 ft wide walls and the 12 ft wide walls look complete and natural. Enjoy...I sure am.
Dvight, Sant Cruz, CA
---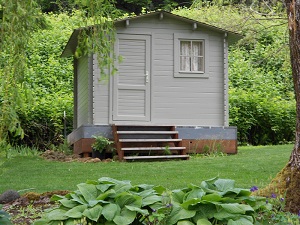 We did purchase one of your 10 x 10 sheds last year for our backyard, overall we have been very happy with the purchase. We have a small house in the counrty and needed a guest bedroom, since we are far away from hotels, so we decided to add a cabin to the yard for guests to stay in. After researching several online options, and shopping at the local home improvement stores, we decided to purchase from you, even though it was scary to order blindly online. Our shed arrived pretty quickly, and the big truck blocked the entire roadway to unload, and drew several neighbors out of their houses to watch; we live in a very small community and any activity is cause for the neighborhood to get together and gawk in the street. Anyhow, I am a 5'1" woman, and I assembled the shed by myself, completely alone, within about 4 or 5 hours. Of course, the shed kit we ordered did not have a roof, so that assemble time did not include roofing, but I still think that is incredible!!!!! I was very impressed, and my husband was even more impressed when he got home from work and saw what I had done.! Our "cabin" sits up off the ground on a platform that we built out of recycled lumber, and for the roof we bought cedar fence boards, and covered those with tar paper and 3 tab shingles; the cedar boards inside look and smell real nice, and were very inexpensive. We painted the outside of the cabin to match the color of our house and garage, and we caulked around the bottom, and also caulked around the door and window. We live in a VERY wet environment. Now when our friends come to stay, we have a wonderful little "cabin" for them to stay in; it has a queen size bed inside, and we have stocked it with board games and books. We did not run electricity to it; so for lighting we use battery powered camp lanterns, and for heat in winter - you just have to snuggle! It allows us and our guests to have some privacy, even when they are staying for several days, and they can bring a pet if they want. We even built an outhouse, so it has its own restroom!
Larisa, Westfir, OR